2024 Scott Standard Postage Stamp Catalogue, Volume 1 (US, UN, Countries A-B)
Purchase
SKU: 1560124
MODEL: C241
ISBN 13: 9780894876943
ISBN 10: 0894876945
EAN: 9780894876943
MADE IN: USA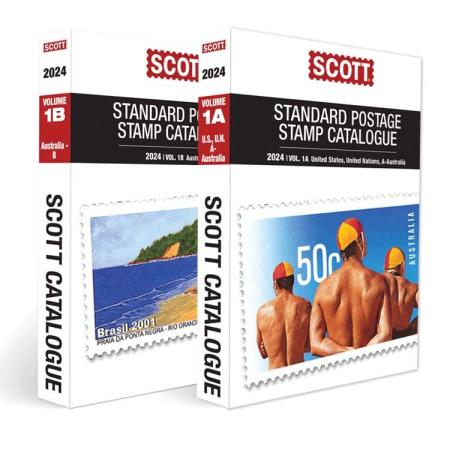 Description
This volume is the first of six volumes of the Scott Standard Catalogue of Postage Stamps.

The catalogs, in publication since 1868, are updated annually by Scott's expert team of philatelists. The Scott team scours the globe hunting down all new issues and obtaining stamps from prior periods, across all the countries of the world where stamps are issued.

They then catalog each stamp, (scanning a high-resolution image of it using state-of-the-art scanning technology), assign a Scott Number and then their valuing analysts research its value. The resulting value is included alongside the listing.


2024 Scott Standard Catalogue Volume 1 (U.S. & Countries A-B)
The 2024 Scott Catalogues are the 180th edition of the Scott Standard Postage Stamp Catalogues. Volume 1A includes listings for the United States, United Nations, and countries of the world Aden through Australia. Listings for Austria through B countries of the world can be found in Volume 1B.
Two-Book Sets for Easier Use
Thousands of Value Changes
NEW Stamp Listings
Many Editorial Enhancements
Contains Stamp Information on the following Countries:
United States - Afghanistan - Aitutaki - Albania - Algeria - Andorra (French / Spanish) - Angola - Anguilla - Antigua - Argentina - Armenia - Aruba - Ascension - Australia - Australian Antarctic Territory - Austria - Azerbaijan - Bahamas - Bahrain - Bangladesh - Barbados - Barbuda - Belarus - Belgium - Belize - Benin - Bermuda - Bhutan - Bolivia - Bosnia & Herzegovina - Botswana - Brazil - British Antactic Territory - British Indian Ocean Territory - Brunei - Bulgaria - Burkina Faso - Burma - Burundi and the following entities: United Nations - New York, United Nations - Geneva, United Nations - Vienna.
Binding: Paperback
Edition: 180th
Publication Date: April 1, 2023
Size: 8.5 x 11
Pages: 1650