Beckett Racing Collectibles Price Guide 2023
Purchase
SKU: 1601834
MODEL: PGRM0034
ISBN 13: 9781953801920
ISBN 10: 1953801927
MADE IN: USA
Description
2023 Beckett Racing Collectibles Price Guide #34
Complete checklists and pricing for virtually every racing card set from 1910.
Present and racing die-cast from 1991-2010.
More than 3,000 card sets & 33,000 die-cast replica listings for NASCAR, Indy-style racing, Formula One, World of Outlaws, drag racing, sprint cars & dirt cars.
Comprehensive and easy-to-use alphabetical checklist for many of the top drivers - perfect for single-driver collectors.
Promotional listings for die-cast and card releases included.
Binding: Paperback
Edition: 34th
Publication Date: May 7, 2023
Size: 8 x 10.75
Pages: 436
Products You May Like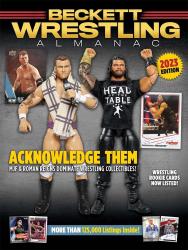 $29.95
Sale Price:
$23.99
$44.95
Sale Price:
$35.99