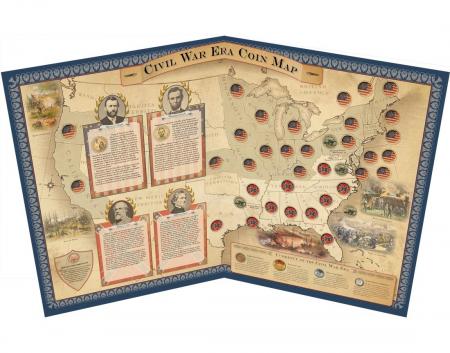 Click to enlarge
More images
Coins of America U.S. Civil War Coin Map
Purchase
Product ID : 39895
SKU: 39895
MODEL: L521
UPC: 094922047465
BARCODE: 094922047465
Description
This attractively done map is a delightful mix of the new coin programs (State Quarters, National Park Quarters, Presidential Dollars, and the new Union Shield cent), classic American coins and a unique history lesson.
It was 150 years ago when America was nearly torn in two. Commemorate this anniversary with a trip back in time and to places of your ancestors' sacrifices. This 5 year battle of brother against brother determining the rights of states and the authority of our Federal government ultimately ended with more than 600,000 dead but a single nation, scarred and preserved. This 45-coin map is a colorful and impactful way to learn of this great war, the generals and presidents involved and features coins of the era and the history surrounding their value along with modern coins representing the sides taken during The War. This collect-your-own coins map is an interactive and engaging way to turn a hobby or interest into a powerful presentation of art, history and value. This map accommodates a combination of everyday coins, coins yet to be minted as well as 4 coins of yesteryear, not easily found but within the reach of all.
This colorful 16.5" x 26" map includes colorful portrayals of significant events and battles during the U.S. Civil War. Each map is made with collectors in mind with extra thick board and recessed coin slots to protect your quarters and prevent scratching.
The coins you will be able to collect and store in this map are:
2010 Shield Penny
Civil War Era: Indian Head Penny, 2-Cent Coin, 3-Cent Nickel, Seated Liberty Half Dime)
Presidential Dollar Coins: 2010 Lincoln Dollar Coin, 2011 Grant Dollar Coin
National Parks and Sites Quarters: Vicksburg National Military Park, Fort Moultrie, Harper's Ferry National Historical Park, Gettysburg National Park
State Quarters: South Carolina, Georgia Arkansas, Mississippi, Louisiana, North Carolina, Florida, Texas, Tennessee, Alabama, Virginia , California, Maine, New York, Connecticut, Maryland, Ohio, Delaware, Massachusetts, Oregon, Illinois, Michigan, Pennsylvania, Indiana, Minnesota, Rhode Island, Iowa, Missouri, Vermont, Kansas, New Hampshire, Wisconsin, Kentucky, New Jersey
The front of the map depicts a Civil War battle while the reverse is a mock newspaper page with articles on the Civil War, the Presidential Dollar coin series, the State Quarter coin series, the National Park coin series, money used during the time of the Civil War and significant battles of the Civil War.
Size:
16.5" x 26"