Classic Coin Conditioner
Purchase
SKU: 55063
MODEL: CCC-02
MADE IN: USA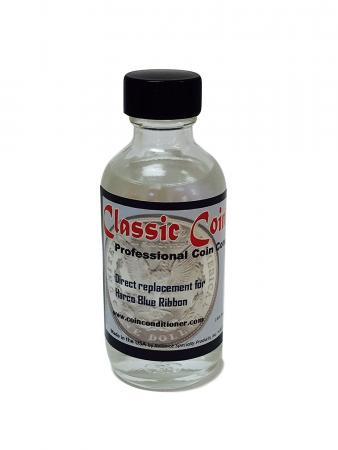 Description
Classic Coin Conditioner removes contaminants and protects the surface. It's a true coin conditioner, not a cleaner, nor a polish. Intended to be a direct replacement of Harco Blue Ribbon, Classic Coin Conditioner combines the solvent and lubrication qualities of Blue Ribbon with a formula that won't harm the ozone like Blue Ribbon.
It conditions silver, copper, and nickel coins.


Classic Coin Conditioner is applied just like Harco Blue Ribbon -- gently, with a soft cloth or cotton -- and gently wiped afterwards with a soft cloth (microfiber works great).
Use a soft cloth or cotton swab moistened with Classic Coin Conditioner. Gently rub coin until surface contamination is removed. Remove excess with clean dry cloth.
No need to dip your coins. Just gently apply, let the coin sit for a minute, and gently dry off.


There are many other products on the market that claim to care for your coin but they leave an oily, slippery residue that's difficult to completely wipe off. Classic Coin Conditioner acts just like Harco Blue Ribbon. It conditions and protects your coins and evaporates quickly.


The EPA prohibited the production and sale of Harco Blue Ribbon several years ago. Collectors have been searching ever since for an affordable replacement. Classic Coin Conditioner's patented, proprietary formula was developed by a coin collector for coin collectors.


Key features:
Removes surface contamination while conditioning;

Enhances the appearance of the coin;

Removes verdigris;

Does not brighten or polish;

Evaporates fast;

Contains no harmful chemicals like CFC, 1.1.1, or TCE;

Does not have strong chemical odor;

Leaves a slight trace of lubricant to protect your coin for the future; and

Safe to use on silver, copper, nickel or brass.
Size: 2 Fluid Ounces