Collector's Assistant Software -- World Coins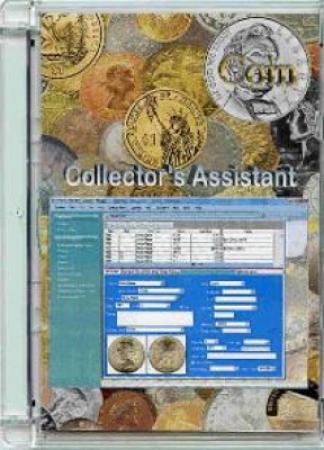 Description
The World Coin Collector's Assistant provides the full functionality of the Collector's Assistant Plus for collectors of world coins including up-to-date values.
It includes the World Coin Database which is also available as an add-on product to other versions of the Coin Collector's Assistant.
The World coin database is a type listing of over 5,000 coins from 40 countries which is user extendable. Included are:
Canada & Australia - Comprehensive listings
Europe - extensive coverage
Asia - Russia, China, Japan, India, Philippines, Vietnam, and some other countries
North America - Mexico, Canada
South American - some countries
Africa - South Africa & some other countries
Middle Eastern countries (Egypt, Israel)
The only commercial coin software product to offer these values
Flexible and powerful report generation

User customizable
Single and multi-line reports per item
Landscape or Portrait mode printing
User controlled sorting and selection
An unlimited number of report formats may be stored utilizing the full set of information fields
Label printing and other specialized formats (with or without pictures)
QuickReport facility allows for complete user definition and reuse of report formats

Scanned image support
Flexible grouping of coins and handling of duplicates
Collector and Investor modes of tracking purchase and sales information
User loadable database of coin dealers
Search for coins meeting selected criteria, including enhanced saved QuickSearches
Automatic values calculated whenever grade is changed - smart algorithm uses best choice of exact grade match, nearby lower grade, bullion and face values
History of collection value and content in tabular and graphical form
User defined sets
Unlimited number of coins inventoried
Comprehensive 2-level storage information (location / container) - specialized reports for inventory and insurance reporting.
Export selected coin listings (want lists, sell lists) for transmission on Internet or via E-mail or to other coin software related products
Over 40 information fields per coin including coin specifications, purchase & sales information, detailed condition and certification information, inventory codes, notes and more
Multi-level undo
Full Print Preview functionality for printed reports
User Manual is supplied both as electronic help system and fully formatted, printable MS Word document
Pictorial mint mark locator shows locations of mint marks on all US coin types
Additional Databases: Additional inventory/values databases are available separately for: US Coin Database, US Currency Database, World Currency Database and Ancient Coin Database.
Compatibility: Windows 10, Windows 8, Windows 7, Windows Vista, and Windows XP (all versions).