Lighthouse Switchable Dual Ultraviolet Lamp
Purchase
SKU: 61090
MODEL: 325178
Alt. Model: L81
EAN: 4004117309892
BARCODE: 4004117309892
Description
This versatile precision ultraviolet (UV) lamp combines two functions in one device: stamps, banknotes, credit cards, telephone cards, etc. can be examined for both fluorescence and phosphorescence. The combination of short and long UV rays (switchable between 254 and 380 nm) makes this lamp especially practical for the user. Long wave UV lamps help the currency and stamp collector to identify fluorescent paper and inks. They are an important tool to verify authenticity and to check for repairs or forgeries. Long wave ultraviolet light typically has a wavelength of approximately 366nm (nanometers). Short wave ultraviolet light with a wavelength of approximately 254 nm is used to identify phosphorescence. 4 Watt (254 nm) or 3-4 mW (380 nm). Requires four AA batteries (not included).


Product Reviews
Login
or
Register
to write a review.
Reviewed by Alan
on May 5, 2020
It works, but...
THE GOOD:
The lamp works as intended. It's compact and not too heavy.

THE BAD:
Very cheesy switch mechanism with no "clicky" feel at all; very easy to inadvertently switch on in either direction and drain your batteries. Does not come with instructions or warranty of any kind. Comes with no carrying case or pouch at all, surprising for this price point. Even the factory box is of the flimsiest cardstock and won't stay closed. If you are expecting quality and durability, this German product is very far from that.
Products You May Like
$34.95
Sale Price:
$29.69
Product is out of stock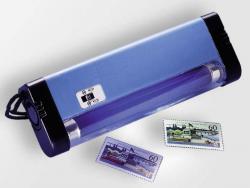 $27.95
Sale Price:
$23.79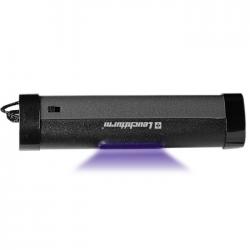 $49.95
Sale Price:
$42.49
Product is out of stock