Scott US Specialty 12-in-1 Multi-Gauge
Purchase
SKU: 64230
MODEL: USSMG02
UPC: 800151000801
BARCODE: 800151000801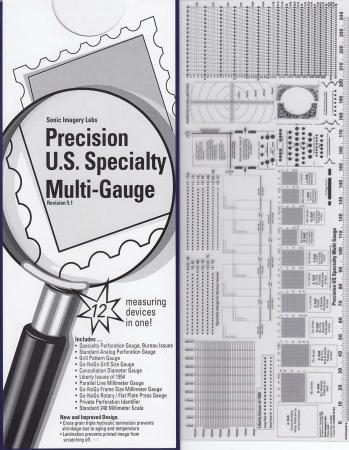 Description
The Scott US Specialty 12-in-1 Multi-Gauge is the most versatile philatelic gauge available. With 12 functions, this one guage will handle all of your philatelic measuring requirements:
Specialy Perforation Gauge, Bureau Issues -- Used to determine the perforation measurement ofa stamp. This gauge is a variation based on the Kiusalas Specialist Gauge produced in the mid-1960s and includes settings for perforations commonly viewed to be the same.
Standard Analog Perforation Gauge -- Used to determine the fractional perforation measuremnet ofa stamp (number of teeth or holes per two centimeters).
Grill Pattern Gauge -- Used to determine the grill ptype of a stamp.
Go-No Go Grill Size Gauge -- Many grill patterns are faint and can be hard to see but this gauge solves the problem.
Cancellation Diameter Gauge -- Used to measure the diameter of circles, datestamps and nay other marking or detail.
Liberty Issues of 1954 -- Used to differentiate between the large hold and small hole perforation 10 varieties of the series.
Parallel Line Millimeter Gauge -- Used for accurately measuring the height or width of coil stamps. It is also useful for verifying the parallel accuracy of coil cuts and edges as well as perforation spacing across perforation rows.
Go-No Go Frame Size Millimeter Gauge -- For measuring the height and width of a stamp's frame design.
Go-No Go Rotary / Flat Plate Press Gauge --Used for quickly determining if a stamp has been printed by a rotary or flat plate press.
Vending and Affixing Machine Perforation Identifier -- Quickly identifies the most common vending and affixing machine perforations (also commonly called "private perfs").
Standard Millimeter Scale -- Linear measurements of up to 240 mm (9.45 inches) are possible.
Guide Dot Locator -- plates and specialists of these issues can locate the relative position of the guide dot for classification.
Revision 5.1 (2008).