The Half Cent, 1793-1857: The Story of America's Greatest Little Coin
Purchase
SKU: 10303
AUTHOR/EDITOR: William R. Eckberg
ISBN 13: 9781645164173
ISBN 10: 1645164179
EAN: 9781645164173
MADE IN: USA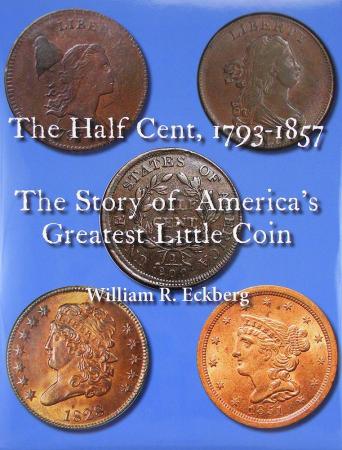 Description
This book tells the story of the half cent from its antecedents and models through its first release in 1793 to its end in 1857. Why did we ever have such a small denomination, anyway? Who made them? When were they made? How many are known of each variety? How are the coins graded today? All of these questions and more are clearly addressed.
This book is profusely illustrated in full color with high resolution photos. All business strike half cent obverses and reverses are illustrated by full color 3.5-inch photographs.
Because of the way they were made, and because they were the money of the people, half cents have a charm and character that few other denominations can have, and this charm and interest come through clearly in the book.
Eckberg says he wrote the book because much new research about the coins' design, engraving and manufacture has been developed since the Cohen and Breen books of 35 years ago, and that has allowed him to correct a number of misconceptions about the series and other early coins of the US Mint. This research, much of it by the author, has come from the study of early Mint documents and the coins themselves. His study of the early half cents' manufacture has provided important new insights into the operation of the early US Mint and into how other denominations were created as well.
Dr. Harry E. Salyards, editor of Penny-Wise, the quarterly journal of EAC, writes: "until now, the half cent has lacked an author able to write in an engaging conversational style while incorporating solid research evidence. As a trained scientist and lifelong teacher, Bill Eckberg is well suited to become the first to do so. Among the literature of early American copper as a whole, we have had homey narratives littered with pseudoscience, and ex-cathedra pronouncements aplenty. We have also had way too much 'history' written in the past subjunctive: narratives introducing each unsupported assertion with a phrase such as, 'Surely there would have been. . .'
"You will find none of that sort of thing here. What you will find is the voice of an enthusiastic collector who has made some unexpected discoveries over the course of his thirty years' pursuit of the American half cent-a fascinating and still underappreciated series."
Every collection of U.S. coins should contain at least a few half cents. Scarcer as a denomination than the key Lincoln cent, the 1909-S VDB, they are truly rare coins. Yet, most half cents are remarkably affordable to the average collector. A US series that is both rare and affordable? Yes! Still, most collectors only know them as type coins, if at all. This book will serve as an interesting and informative introduction to the series for those who are unfamiliar with it and will provide enough new knowledge to satisfy even the most advanced specialists.

Binding: Hardcover
Edition: 1st
Publication Date: May 2019
Size: 8.5x11
Pages: 146
Products You May Like
$25.00
Sale Price:
$29.99
Product is out of stock
Product is out of stock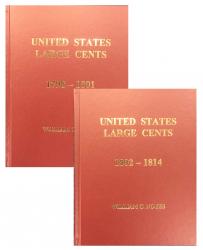 $250.00
Sale Price:
$224.99