Blue Bow Coin Conditioner
Purchase
SKU: 55410
MODEL: us177
MADE IN: USA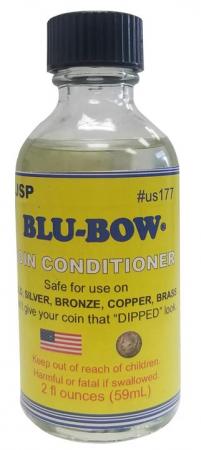 Description
Per the manufacturer:
Does not change the color of your coin.
Removes oxidation contamination and tarnish.
Designed to be used on mint state or proof coins.
Efficient on AU and slightly used coins.
Restores the luster and removes the tarnish, environmental and petroleum contaminants.
Not a dip based product - gently apply and massage with a cotton swab.
2 ounce bottle.