Greek Coin Types and Their Identification
Purchase
SKU: 13650
AUTHOR/EDITOR: Richard Plant
ISBN 13: 9780900652479
ISBN 10: 0900652470
EAN: 9780900652479
MADE IN: Malta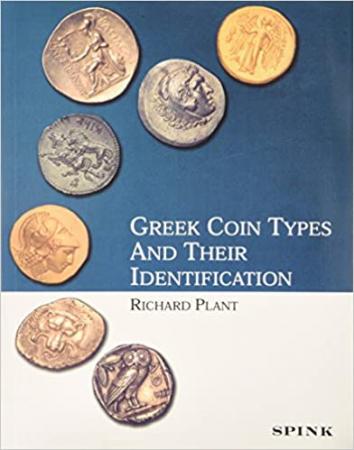 Description
Greek coins have always posed problems of identification to the average numismatist. Greek bronze coins, for example, are amongst the commonest of available ancient coins but are also the most difficult to identify, especially when worn and indistinct; further, many of the types occur at several cities.
The major numismatic catalogues list Greek coins geographically, making it virtually impossible to locate and unfamiliar coin. In this book, which is unique in its approach, Richard Plant has taken nearly 3,000 Greek coins, concentrating on types which may not be immediately identifiable from their inscriptions or subjects represented, and has broadly analysed them according to their characteristic types and grouped them accordingly.
It needs very little practice to be able to recognize tripods, animals, birds, fishes and the principle deities such as Zeus, Nike, etc. For example, a coin having a temple with four columns on one side and two fishes on the other will be found under the heading 'Shrines and Temples; Temple or shrine with four columns' and also under the heading 'Two fishes or dolphins'; in each case the identification would be to an issue from Abdera in Hispania Ulterior and an illustration under the coin's main number. The place of issue, date, denomination, metal and size are given. This may be all the information required and sufficient to proceed to other standard works of reference.
No other book allows a coin to be so quickly identified via its type and the immense scope of this book is apparent when it is realized that here 'Greek' coins cover everything which is not Roman in the ancient world with the exception of Ancient British, Gaulish and Indo-Greek coins with Karosthi legends.
Binding: Paperback
Edition: 1st
Publication Date: 1979 (2004 reprint)
Size: 7.5 x 9.75
Pages: 344