Hand Painted Chinese Year of the Rabbit Pendant (1927, 1939, 1951, 1963, 1975, 1987, 1999, 2011)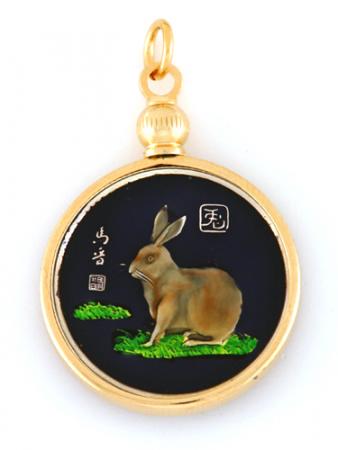 Description
This attractive pendant was made from a genuine Chinese medallion that was beautifully hand painted.
Each piece in our line of hand painted coin and medallion jewelry is crafted from a genuine coin or medallion. The multi-color hand painting comes from a very old art form from a family of artists. This family is the only known family of artists in the United States making these beautiful pieces, each of which is a gift or keepsake to treasure forever. The artists of this family have carefully selected each coin and medallion and, choosing from a selection of miniature curved and straight brushes, hand painted every minute detail that already existed on the coin or medallion. In painstaking fashion, the artists have applied color initially to the background to outline the design, followed by a high tempature firing process. The firing process is repeated after each color is applied. The hand-painting process for each piece varies with some taking as long as two days to complete. In the final stage, in order to protect the delicate hand painting, the artists have applied and baked on a covering of space age plastic, which also adds depth and luster to the item while providing protection forever.
Because all of the enamels are mixed by hand at the moment of application, no two pieces are ever truly exactly identical, making each item truly an original. Thus, the piece you receive could vary slightly from the image shown. Each piece is shipped in a jewelry box suitable for gift wrapping.
This is a Special Order item that will be shipped separately directly from one of our jewelers. If there will be a delay in shipping of more than a few days (which is unlikely) we will let you know.