Humongous Hoard Resealable PCGS Graded Coin Bags
Purchase
SKU: 42552
MODEL: HH-PCGS
BARCODE: 850031631250
MADE IN: China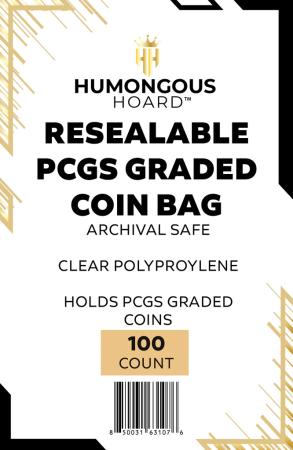 Description
Humongous Hoard's Resealable Coin Bags are the best way to protect PCGS graded cards. These easy to load sleeves are acid free and archival quality and cover the enite PCGS Slab. Resealable sleeves allow for a tighter seal and reapplication as needed.
These Resealable Graded Coin Bags perfectly fit standard PCGS Graded Coins Slabs. The coins sealed in these bags will also fit into PCGS storage boxes. These are the perfect option to protect your best graded coins with an extra level of protection that covers the PCGS Slab. Can hold other graded coins of a similar size.

Pack of 100 sleeves.