Humongous Hoard Resealable Team Set Bags
Purchase
SKU: 48106
MODEL: HH-TS
BARCODE: 850031631076
MADE IN: China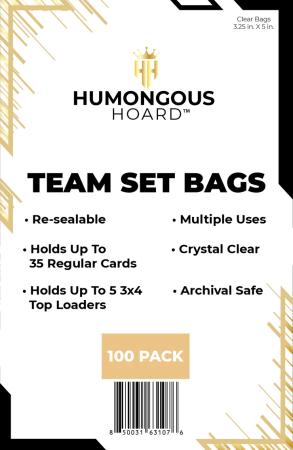 Description
Humongous Hoard's Resealable Team Set Bags are the best way to keep your team's set safe and organized. These easy to load sleeves are acid free and archival quality and hold up to 35 standard cards. Resealable sleeves allow for a tighter seal and reapplication to other sets if needed.
These Resealable Team Set Bags perfectly fit 35 standard cards, 25 cards in standard soft sleeves or 5 cards in standard size 35 point top loaders. They can also hold thicker top loaders in lesser quantity. These are the perfect option to keep your sets organized and protected. These resealable sleeves are also perfect to double sleeve with standard sleeves.

Pack of 100 sleeves.