Humongous Hoard Standard Thick Sleeves
Purchase
SKU: 48242
MODEL: HH-TS
BARCODE: 850031631199
MADE IN: China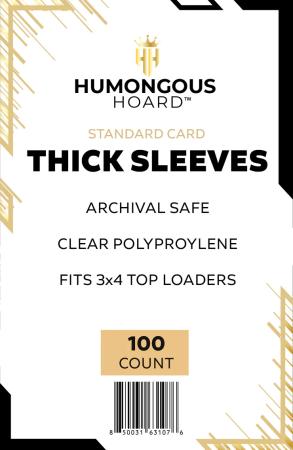 Description
Humongous Hoard's Standard Thick Sleeves are the best way to protect your precious sports trading cards, collectible game cards and other valuable card assets. These easy to load sleeves are acid free and archival quality and will protect your collection from dust, dirt, and oils. Crystal clear on both sides for cards that need to display the front and back.

These Standard Thick Sleeves fit standard trading cards that are 2.5 inches by 3.5 inches. These sleeves are perfect for protecting cards from scratches. Holds up to 130 points of thickness. Great for game used jersey, bat, and other thicker cards.

Pack of 100 sleeves.