Lincoln Cent Matte Proofs
Purchase
SKU: 10393
AUTHOR/EDITOR: Kevin Flynn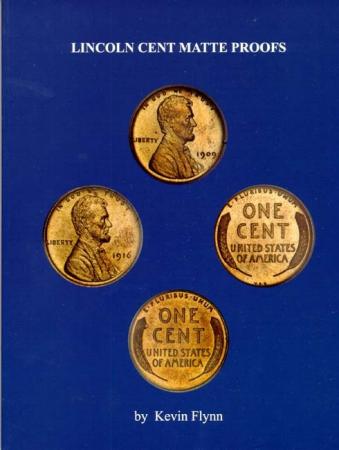 Description
The only book devoted entirely to matte proof Lincoln Cents. Over 250 color and black and white photos provide die diagnostics descriptions to identify and authenticate matte proof Lincoln Cents. Included are die state diagnostics and photographs of previously unpublished diagnostics and die combinations.
The book also presents an analysis of the striking characteristics of Lincoln Cent matte proofs. Lincoln Cent matte proofs were struck on a hydrolic press at much greater pressure than that used for ordinary business strikes. Side-by-side comparison photographs of matte proofs and early die state business strikes show the details of primary design elements, rims, edges and corners. Different striking characteristics were found for each year on the design elements while the rims and edges were similar in width, flatness and general appearance for most years. The primary difference on most years was the sharpness of the corners on matte proofs. For other years, the corners on the business strikes were also sharp. This book helps the reader understand what to expect on a matte proof cent on a year-by-year basis.
The date-by-date analysis presented for the series includes an analysis of striking characteristics, surface characteristics, scarcity, general comments, Heritage auction prices realized, current values and certified population counts.
A detailed analysis of all the silver and minor proof issues from 1909 to 1916 includes all delivery dates for each series. This information shows how many coins were delivered and how they were distributed, whether in minor sets, silver sets, or individually. Archive letters are also included that show how many collectors did not get 1909 VDB proof coins and were upset that the mint did not notify collectors of the availability of the new proof coins.
Binding: Paperback
Edition: 1st
Publication Date: March 2009
Size: 8.5x11
Pages: 128
....
Product Reviews
Login
or
Register
to write a review.
Reviewed by Patrick
on May 3, 2019
Lincoln Cent Matte Proofs is a Must Have If you hunt these!!!!
This is a great book to have. The break down of each coin by year is easy to u understand and is accompanied with pictures. It goes year by year and how each one has specific die characteristics to look for. it really shows you that you cant depend on you just thinking it's a matte proof by how thick the rim looks like most people do.

The only draw back in my opinion is that most pictures are in black and white with one color picture of each obverse and reverse. I am hoping that sometime soon a deluxe and updated version with high quality color pictures of all images on high grade paper of this book comes out because I Would definitely buy that version.

I still would recommend this book to anyone really wanting to learn about these coins because at the end of the day, by far, the best book out there.