Lindner ERNI A Mildew Stain Remover
Purchase
SKU: 55825
MODEL: 8070
EAN: 4044713002278
BARCODE: 4044713002278
MADE IN: Germany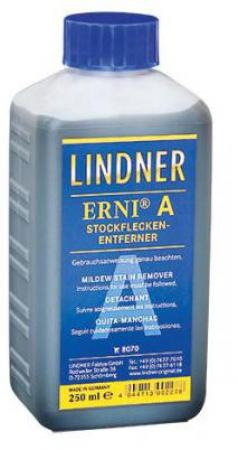 Description
ERNI products help the collector improve the value and condition of used stamps. The complete set provides all-round care for all kinds of dif­ferent problems.

Through dirt particles, improper storage and climatic changes, stamps can in the course of time acquire mildew stains. Mildew stains take a brown-yellow appearance and can cover a part of the stamp or gradually take over the whole surface area. Mildew stains are micro-organisms which will grow and increase under the conditions described above. With the correct treatment, it is possible to remove mildew stains. ERNI A and ERNI B must be used together. Mildew stain also occurs on banknotes, they can also be treated with ERNI A and ERNI B.
ERNI A and ERNI B remove mildew stains from stamps. ERNI A disinfects and ERNI B is used as a rinse.
Only for postmarked stamps.
Please observe instructions carefully.
Protect from frost.
Keep out of children's reach!
How to use: To remove mold stains, 3 dishes should be prepared: ERNI A (purple) in dish 1, ERNI B in dish 2, and water in dish 3. Please check before use whether the problem stain is actually mold. Postmarked stamps which have been washed (creases and gum residue removed) should be fully submerged in ERNI A (purple). After 3 minutes, remove the stamp, drip dry and place in ERNI B. After a further 3 minutes, put into dish 3 (normal water) and rinse, then dry as usual.

Note that the objects will turn a brown color in ERNI A but become clean again in ERNI B. ERNI A and ERNI B must not be diluted nor mixed. Make sure to wash tweezers in ERNI B before any contact is made with ERNI A. Brown marks will appear on hand if contact is made with ERNI A. A few drops of ERNI B will remove these spots and hands should then be washed.

Limatations: When putting mint stamps through the process the gum will be removed. It is not recommended for stamps sensitive to water or where colors, overprints or franking ink are not colorfast.
Warning: Causes skin irritation. Causes severe eye irritation. Causes long-term pollution for water organisms. Keep packaging and identification labels at hand if seeking medical help should become necessary. Keep out of children's reach. Read description label carefully before use. Wear protective gloves, eye protection and face protection. Not to be disposed of in the environment.
General note: Immediately dispose of any garments which may have been in contact with the solution. If inhaled, get fresh air and consult a doctor in case of symptoms. In case of skin contact: Immediately wash out with soap and water, rinse well. In case of skin irritation: Consult a doctor. In case of eye irritation: Rinse well for several minutes under running water with eye lids open and consult a doctor. If possible, remove contact lenses and continue rinsing. If swallowed: Immediately consult a doctor. Disposal of contents and the container according to local/regional/national/international regulations.
Ingredients: potassium permanganate 1 - < 2,5%
Size: 8 fluid ounces (250ml)
Safety Data Sheet: Safety Data Sheet