Littleton Album Innovation Dollars Proof
Purchase
SKU: 33334
MODEL: LCA83
ISBN 13: 9781933256399
ISBN 10: 1933256397
UPC: 675346300888
EAN: 9781933256399
BARCODE: 675346300888
MADE IN: USA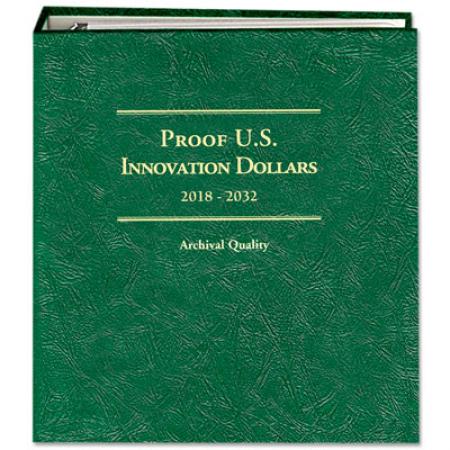 Description
The new Innovation Dollar series was introduced with a 2018 issue featuring a facsimile of President George Washington's signature as it appeared on the first U.S. patent issued in 1790. It continues with four new reverse designs each year from 2019-2032 honoring an important innovator or innovation from each of the 50 states, the District of Columbia and the 5 U.S. territories. Struck in the same golden-colored composition as Presidential and Native American dollars, the new dollars will share a common obverse depicting the Statue of Liberty. The reverse designs will be issued in the order that each state ratified the U.S. Constitution or was admitted into the Union, followed by the D.C. and U.S. territory coins.
This album includes spaces for San Francisco proof issues from the Innovation Dollar series. Littleton albums provide archival-quality, acid-free, and PVC-free long-term storage for your collection. Each album gives you a brief history about the series, along with mintage figures. Littleton albums feature sturdy 3-ring binder construction, so album pages lie flat and can be easily removed. Brass eyelets reinforce the pages, and thumb-holds make slide removal convenient. Crystal-clear slides show both obverse and reverse.
Album fits in a 2-inch slipcase (sold separately).
Labeled spaces for

for San Francisco "S" Mint Proof coins of each design

Handsome deep green album with gold-embossed lettering
Sturdy 3-ring binder construction
Clear protective slides offer easy view of both sides of your coins
Proudly made in the USA with safe archival-quality material