The 2022 Unitrade Specialized Catalogue of Canadian Stamps
Purchase
SKU: 1563722
AUTHOR/EDITOR: D. Robin Harris FRPSC, OTB
ISBN 13: 9781894763769
ISBN 10: 1894763769
UPC: 623559634399
EAN: 9781894763769
MADE IN: Canada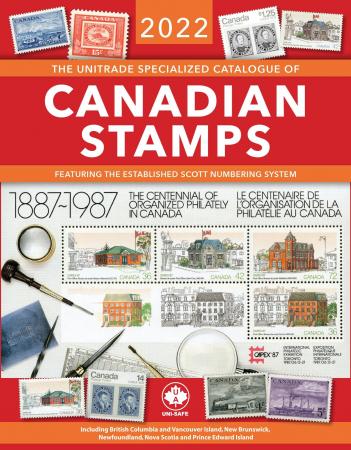 Description
The Unitrade Specialized Catalogue of Canadian Stamps is the universally recognized specialized reference catalogue for Canadian Postage stamps. This catalogue and price guide uses the established Scott Publishing number system with Unitrade's own sub-numbering for the more specialized varieties and stamp issue formats. Every Canadian postage stamp ever issued starting with the 3 penny beaver in 1851 (Scott#1) until the Radio Canada issue of May 2020 (Scott #33244-45) is included as is every one of the thousands of issues in between, in all formats: singles, plate blocks, miniature sheets, uncut press sheets, etc.

Market valuation prices are included for both mint stamps and used stamps including the detailed sub varieties for shades, printing method variations, and paper varieties. For earlier issues, prices for individual stamps are broken down by condition grade such as VG, F, VF, etc. and for mint stamps by grades of NH (Never Hinged), H (previously hinged), NG (no Gum), and used/cancelled stamps by VG, F, VF. Also included are prices for postal history covers and first day covers.

All stamp issues from the former colonies of Newfoundland, Prince Edward Island, New Brunswick, Nova Scotia, British Columbia and Vancouver Island are included with comprehensive specialized listings for stamps, numeral cancellations and plate proofs for each.
Binding:
Spiral Bound Paperback
Edition:
2022
Size:
8.5x11
Publication Date:
December 2021
Pages:
784