The Authoritative Reference on Mercury Dimes
Purchase
SKU: 10630
AUTHOR/EDITOR: John A. Wexler; Kevin J. Flynn
ISBN 13: 9780983269250
ISBN 10: 0983269254
EAN: 9780983269250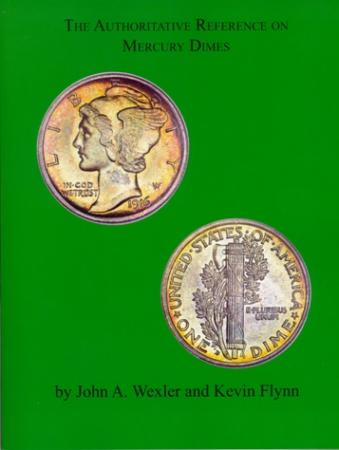 Description
The primary purpose of this book was to create a complete and comprehensive reference for the Mercury dime series including all die varieties, history, patterns, authentication of rare dates, date-by-date analysis, and historical documents.
In 1999, the authors published Treasure Hunting Mercury Dimes, which contained 59 doubled dies and 50 repunched mint marks (RPMs). This new book contains 64 doubled dies and 105 repunched mint marks. Only a few new doubled dies were added, but the number of RPMs was easily doubled, including a few new dramatic ones. For each die variety listed, detailed macro photos make identification much easier. Most of the varieties include multiple photographs showing different details. Included also for each variety is a detailed description of the variety, diagnostics, including die markers such as die cracks, scratches, clashes which can make identifying the variety easier, pricing, and cross references.
Many archive letters were uncovered relative to the Mercury dimes and are included as well as relevant Director of the Mint Reports, and article relative to the Mercury dimes. This greatly helped in the analysis of the history section, especially for why the designs were chosen. A section is included on the sculptor the Mercury dime and an analysis of where he most likely chose the image for the obverse from.
The date-by-date section offers an analysis of each date including scarcity, striking characteristics, world history which occurred that year, hot topics, comments, current values, and the certified population counts from PCGS and NGC. This was done for both the coins struck for circulation and the proofs. An additional section describes the differences in the striking characteristics of the bands on the reverse, and shows examples of the different classifications.
An important addition to this book is an authentication section. There are several rare and expensive coins in the Mercury dime series, such as the 1916-D, 1921, 1921-D, 1942/1, and 1942/1-D. There have been many counterfeits generated over the years for these coins. This section provides detailed photographs of genuine coins, and presents die stages for many of these to help in identification, with special emphasis placed on the 1916-D Mercury dimes. A section also covers and presents detailed photographs of all Mercury dime patterns, including a new pattern never before published.
Binding: Paperback
Edition: 2nd
Publication Date: August 2014
Size: 8.5x11
Pages: 240