The Official Red Book: A Guide Book of United States Coins 2024 (Mega Red Deluxe Edition)
Purchase
SKU: 10000245
MODEL: 0794850197
AUTHOR/EDITOR: R. S. Yeoman; Kenneth Bressett; Jeff Garrett; Q. David Bowers
ISBN 13: 9780794850197
ISBN 10: 0794850197
EAN: 9780794850197
MADE IN: USA
Description
The Ninth Deluxe Edition MEGA RED is the new expanded version of the hobby's best-selling
The Official Red Book: A Guide Book of United States Coins
(the RED BOOK), with more pricing in more grades than the regular edition, plus certified population data, more die varieties, and more auction records. It covers American coinage from colonial times to the modern day—copper tokens and half cents through $20 gold double eagles, plus bullion, commemoratives, Proof and Mint sets, significant patterns and medals, error coins, and other collectibles. It has everything you need to know about U.S. coins.
More than 9,000 items priced
50,000 individual values
Up to 13 grades
Thousands of full-color images
More than 15,000 auction records
Plus:
Striking and sharpness diagnostics for each coin type
Valuable insight on market conditions
Detailed study of Proofs, including early gold, silver, and copper types
Expanded coverage of pattern coins
In-depth grading instructions by type, with enlarged illustrations
More die varieties in every denomination
Close-ups of rare varieties
The latest numismatic research For the specialist: Expanded coverage of colonial coins and tokens
More background on private and territorial gold pieces
Expanded history and explanation of Philippine/U.S. coinage
Special coverage of tokens and medals, the Circulating Collectible Coin Redesign Act of 2020, and the American Women Quarters™ program
Each annual edition of MEGA RED features a different group of expanded sections that make that edition unique. For the Ninth Edition the expanded section covers $2.50 gold coins. The expanded sections differ from prior editions of the MEGA RED and won't be repeated in subsequent ones.
Also available for 2024 is the Redbook in Spiral, Hardcover, Hidden Spiral and Large Print formats.
Confused about coin pricing or need help finding the right Coin Price Guide? See our
Guide to Coin Pricing
.

Binding Perfectbound
Edition: 9th
Publication Date: August 1, 2023
Size: 8.5 x 11 inches
Pages: 1504

Products You May Like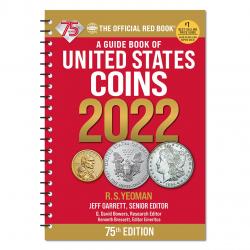 Product is out of stock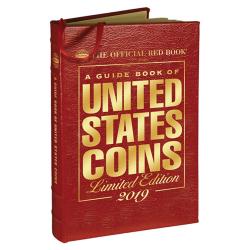 $99.95
Sale Price:
$84.99