Whitman Encyclopedia of Obsolete Paper Money, Volume 2
Purchase
SKU: 12047
MODEL: 0794839401
AUTHOR/EDITOR: Q. David Bowers
ISBN 13: 9780794839406
ISBN 10: 0794839401
EAN: 9780794839406
BARCODE: 9780794839406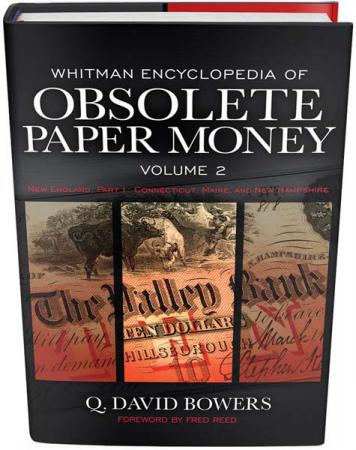 Description
The
Whitman Encyclopedia of Obsolete Paper Money
is a multiple-volume study of currency issued by American banks from 1782 to 1866, before the modern era of National Banks and the Federal Reserve.
In volume 2, the "Dean of American Numismatics," Q. David Bowers, has compiled decades of research from 18th- and 19th-century bank reports, contemporary newspapers, and other primary sources.
He gives the history of every town and city, as well as of every bank that issued this uniquely American currency in the New England states of Connecticut, Maine, and New Hampshire. Each note is studied, and thousands are pictured in full color, with information on grading, rarity, values, significant auction results, advice for collectors, and more.
The Whitman Encyclopedia of Obsolete Paper Money is a monumental work. Essential for collectors, it is equally valuable for American historians. Volume 2 is an immersion in the life of New England and our nation from the Revolution to the Civil War.
"Destined to become a landmark event in the unfolding history of U.S. paper-money collecting. These works should be on the shelves of our institutions of higher education and in historical societies of all the states covered." — Fred Reed, editor, Paper Money Magazine
Topics in Volume 2 include:
How to use this book
The obsolete bank notes of Connecticut, Maine, and New Hampshire, including Proofs, remainders, and uncut sheets, and counterfeit, spurious, and altered notes
Glossary
Bibliography
Detailed index
Printed in full color with 2,472 images. Covering more than 140 towns and cities, 300-plus banks, and nearly 6,000 individual notes.
Binding:
Hardcover
Edition:
1st
Publication Date:
July 8, 2014
Size:
8.75x11
Pages:
752
Products You May Like