Whitman Search & Save: Abraham Lincoln Cents -- From Birth to Bicentennial, and Beyond
Purchase
SKU: 38505
MODEL: 0794844383
ISBN 13: 9780794844387
ISBN 10: 0794844383
EAN: 9780794844387
BARCODE: 9780794844387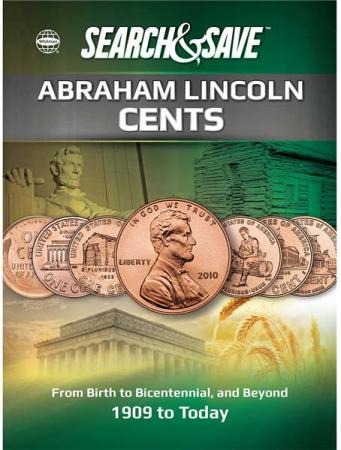 Description
Each Search & Save™ volume consists of a 64-page book bound with a Whitman Classic Coin Album page for storing and displaying a coin collection. Richly illustrated and entertaining, Search & Save volumes are intended for beginning to intermediate hobbyists, and as a fun way to introduce newcomers to active coin collecting.
The Lincoln cent is America's longest-running and most popular coin. It turned 100 years old in 2009. That year also marked the bicentennial of President Abraham Lincoln's birth. The U.S. Mint released four new reverse ("tails") designs, celebrating
1. Lincoln's birth and early childhood in Kentucky;
2. his formative years in Indiana;
3. his professional life in Illinois; and
4. his presidency in Washington, D.C.
Now you can learn all about these historic coins, and more. This attractive commemorative book and coin album is designed to hold many different varieties of collectible Lincoln cents that have been minted in the past 100-plus years. Build your own personalized coin collection—you'll find many of them in pocket change! Others will require more hunting. When you're done you'll have a valuable coin collection, and you'll be able to tell each coin's story.
The Whitman Search & Save book and album is perfect for display and for long-term storage. It will keep your coins safe and show them off for future generations.
Size: 5.75 x 7.75 inches