Whitman/HE Harris Round Tubes, Small Dollar Size (25 ct)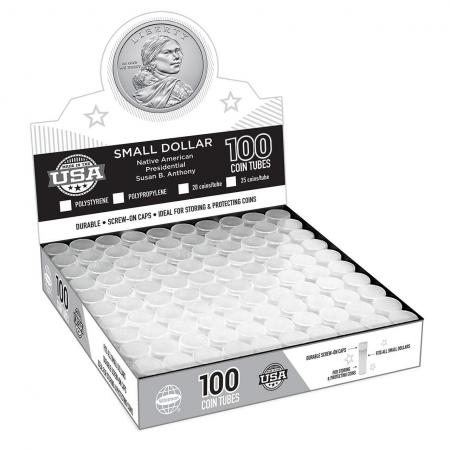 Description
Whitman/HE Harris round coin tubes are made of durable inert polystyrene with inert polypropylene
twist-off
caps. They are ideal for storing and protecting rolls of loose coins. Paper wrapped rolls do not fit well in these tubes.
Whitman/HE Harris
round coin tubes
are sold individually or in packs of 100 tubes.
Whitman and HE Harris consolidated in 2003 and since that time the Whitman and HE Harris brands have been used interchangeably on the tubes produced by the combined company. They currently make tubes from both dies with the Whitman brand on them and dies with the HE Harris brand on them. Furthermore, Whitman is owned by Anderson News Company and we occasionally even get tubes or boxes with the ANCO brand on them. Other than the branding, the dies (and the tubes) are identical. In addition to the variability in the tube branding, they have changed the box design several times in the past few years. The product images shown on this page are of the current packaging design but we frequently get shipments in leftover packaging from prior designs. So, what we ship may look different. Inventory of the different tube brands and packaging is intermingled at Whitman/Harris and when we order tubes we get whatever they have in inventory at the time. In fact, it isn't unusual for the box to have one brand name and the tubes inside to be a different brand name. Because what we have in our inventory is whatever they ship when we order, we are unable to accommodate requests for a particular brand of tube or style of packaging. But, if any of this matters to you as a buyer/user, we can check to see what is currently on the shelf at a particular time
upon request
. Note, however, that the next case we open could be different....
Size:
Small Dollar (Anthony, Sacagawea, Presidential and Innovation Dollars)
Holds:
25 coins