Lighthouse Grande Binder and Slipcase
Purchase
SKU: 28805
Alt. Model: CL GR 3RNG SET
EAN: 4004117357718
BARCODE: 4004117357718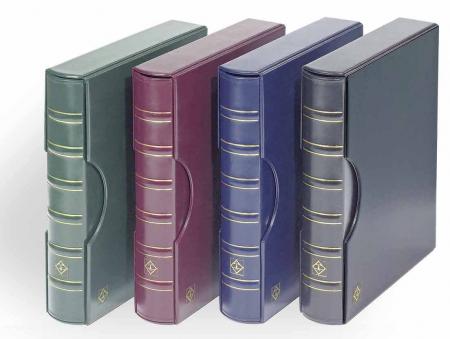 Description
Lighthouse Grande Classic ring binders can hold pages up to 240x300mm in size. This makes Grande Classic albums ideal for storing coins, currency, stamps and sports cards. Grande binders have bookbinder's quality leatherette covers and hold pages with a sturdy three-D-ring mechanism. The binders can hold up to 60 pages depending on the thickness of the pages. Each Grande binders comes with a matching slipcase. Get started immediately with our option to add a pack of two certified coin pages (holds 18 slabbed coins). This binder will hold up to 4 of the certified coin pages. Choose from black, burgundy, forest green or royal blue.
Binder Size: 11.33x12.67 (290mm x 325mm)
Slipcase Size: 11.5x13 (293mm x 335mm x 70mm)
Colors: Black, Burgundy, Forest Green, Royal Blue
Model Numbers: 339145 (Black), 302730 (Burgundy), 339155 (Forest Green), 334927 (Royal Blue)
UPC Codes: 4004117357923 (Black), 4004117288517 (Burgundy), 4004117357909 (Forest Green), 4004117288494 (Royal Blue)


Product Reviews
Login
or
Register
to write a review.
Reviewed by Donald
on Sep 7, 2021
Beautiful Presentation
If you have a nice collection of banknotes, this is the way to store them. The binders are oversized, but they look amazing on the shelf. I use the green Grande Classic binders to house my collection of world banknotes country by country. Flipping through the pages is like taking a world tour through time.

The specs say these binders hold 60 pages. I use the black interleafs so I am getting about 60 to 80 notes per binder--30 to 40 two sleeve banknote pages and 30 or 40 black interleaves.
Reviewed by Dmitry
on Nov 26, 2012
Excellent album. Looks nice on my shelf. I usee it with Supersafe Archival Pages 2x2.
Reviewed by Jerry
on Mar 17, 2011
The binder don't come with any album pages in it when you buy it. You need to buy the album pages also.