The Official Red Book: A Guide Book of United States Coins 2011 -- Leather Edition
Purchase
SKU: 10000116
MODEL: 0794831532
AUTHOR/EDITOR: R. S. Yeoman; Kenneth Bressett
ISBN 13: 9780794831530
ISBN 10: 0794831532
EAN: 9780794831530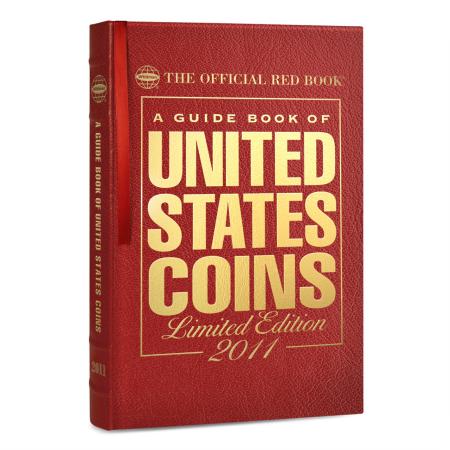 Description
The Official Red Book®, now in its 64th year, is famous nationwide as the premiere resource for U.S. coin collectors. This best-selling "one-volume library" helps you make smart buying decisions as you build your collection. Millions of readers rely on it for full-color photographs, detailed technical data, and up-to-date mintages. The Red Book covers the history of colonial and early American coins; official federal issues from half cents through silver dollars and gold coins; classic and modern commemoratives; Proof and Mint sets; error coins; Civil War tokens; pioneer (territorial) gold; every state and territorial quarter, plus the new National Park quarters; all of the presidential dollars; and more. You'll benefit from its practical essays on grading, investing, auctions, and other hobby subjects—and of course, its pricing for 6,000-plus coins, in up to 9 grades each, gathered from more than 100 of the nation's leading coin dealers! The 2011 edition features more than 1,800 full-color photographs to help you confidently identify your coins. Updated values, mintages, and auction records. Expanded coverage of commemoratives, sets, and other coins. The latest research on colonial coins and private/territorial gold. New higher-grade pricing for classic commemoratives. And much more—something of value for every collector, new or experienced. It's no wonder more than 22 million copies of the Red Book have been sold since the 1st edition!
Red Book coin values are found in the most widely used price guide available today. Originally published in 1946 by Whitman Books, A Guide Book of United States Coins: The Official Red Book of U.S. Coins, a.k.a., the Red Book, is the yearly guide that most collectors turn to first for essential information about their coins, including retail pricing. The first Red Book was written by Richard S. Yeoman and current editions are still edited by Kenneth Bressett, a colleague of Yeoman's who has been working on every edition since 1959.
Current Red Books come with full-color photographs and detailed technical information, which help collectors discern and understand the values of their coins. The Red Book is the primary reference guide for coin collectors. Updated yearly, Red Book coin values also explain the history of certain coins as well as select records for coins sold at auction.
The Red Book is an invaluable tool for coin collectors and is still the most significant U.S. coin pricing guide in print today.
The Professional Edition is a new and enlarged version with expanded content to help intermediate and advanced collectors and coin dealers build their collections and make smart purchases and sales. The book is physically larger than the regular-edition Red Book (almost 50% larger, at 8.5 x 11 inches), and spiralbound for convenient reference. Expanded features of the Professional Edition include: Expert guidance on striking and sharpness characteristics for each coin type-valuable information when inspecting coins for purchase; Insight on availability and condition rarity for each type; Detailed grading instructions, including for Mint State and Proof coins; Certified population summaries, for every date and mint mark including the number certified, the average grade, and the percent in Mint State; Expanded valuations, expanded grades for each date, including multiple Mint State and Proof levels, plus Full Bands, Full Bell Lines, Cameo/Deep Cameo, and other specialized designations; Auction records for every coin listed; Additional die varieties in every denomination, with close-up photographs; Informative chart notes that expand on the history, characteristics, and market values of important coins; Detailed research and market information on early (pre-1858) Proof coinage, including gold; High-quality, full-color photographs of both circulation-strike and Proof coins, for every type; and enlargements of key focal points and varieties, many more than in the regular edition.
The 64th edition of this popular guide is also available in a beautiful Limited Edition. Each large-format (6"x9") leather-bound edition is individually numbered and personally autographed by longtime editor and hobby legend Kenneth Bressett. With gold-stamped lettering on the cover and gilt-edged pages, the Limited Edition has acquired a collectible status in its own right. The print run is limited to 1,500 and past Limited Editions have sold out, so please act quickly. The leather-bound Limited Edition 2011 Red Book will make a wonderful addition to any collection.
At WizardCoinSupply.com, we have great prices on the Red Book as well as every other type of coin book and coin pricing guide you might need. If you don't see what you are looking for, please contact us and a member of our staff will be happy to help you.
Confused about coin pricing or need help finding the right Coin Price Guide? See our
Guide to Coin Pricing
.

Binding: Leather Edition
Edition: 64th
Publication Date: April 7, 2010
Size: 5.25x7.75
Pages: 432

Products You May Like
$99.95
Sale Price:
$84.99