Cherrypicker's Guide to Rare Die Varieties of United States Coins, Vol I
Purchase
SKU: 1180307
MODEL: 0794843182
AUTHOR/EDITOR: Bill Fivaz; J.T. Stanton
ISBN 13: 9780794843182
ISBN 10: 0794843182
EAN: 9780794843182
BARCODE: 9780794843182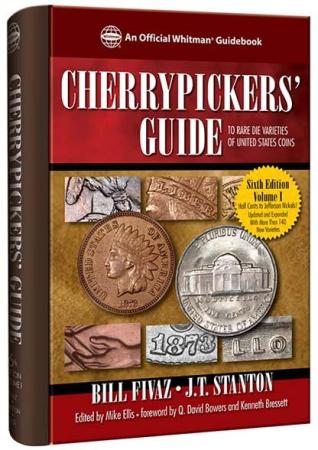 Description
Cherrypicker's Guide to Rare Die Varieties of United States Coins
One of America's most popular coin books, the Cherrypickers' Guide to Rare Die Varieties, Volume I, is now available in an updated Sixth Edition. Volume I covers all United States series from half cents through nickels. The book is a result of many years of cumulative research and finessing by the lead authors, Bill Fivaz and J.T. Stanton, in cooperation with many collectors, scholars, dealers, and others in the numismatic community. It presents information unavailable in any other single source.
Everything you ever wanted to know about rare die varieties can be found in the Cherrypicker's Guide to Rare Die Varieties of United States Coins book series. With volumes I, II and III, you'll find a comprehensive guide for how to "cherry-pick," or sift through collections of normal-looking coins and find rare, sometimes valuable die variaties.
This is what some collectors live for; the chance to find a rare variety among seemingly ordinary collections. Find doubled or tripled dies, repunched or misaligned mint marks, overdates, or other die varieties. The Cherry Picker books not only explain what to look for, it shows you in high-resolution detail with large, close-up photographs of even the smallest of unusual marks you might find…so you know precisely what to look for while "picking."

The Cherrypicker Guide is a three volume series:
Volume I

-- Half cents, two cent

pieces

, three cent

pieces

, and nickels
Volume II -- Half dimes, dimes, twenty cents, and quarters
Volume III -- Half dollars, dollars and gold
There's a reason this book has taken the numismatic world by storm and become a best-seller. Its user-friendly format, easy how-to instructions and clear photographs make it one of the most popular coin books ever written on the topic.
Cherry Picker's Coin Guide Book, a Collector's Must-Have
The second volume of The Cherry Picker's guide book for finding rare die varieties includes face values of ten-cent coins and up. You'll be surprised to see many rare die varieties of coins from the 1970s, 1980s, and up to the present. You may have one of these rare pieces in your pocket change!
We recommend purchasing an high quality coin magnifier if you plan to get serious about cherry-picking through your collection, because while the large photos in these fantastic books make it easy to pinpoint the die variaties, your coins are much smaller and it may be difficult to find smaller mint mark errors and the like.
Many collectors, both novices and experienced veterans have told us that their copies of the Cherry Picker's series are so well loved they're dog-eared. Don't hesitate to pick up these collectors' favorites today – they're a must-have for any coin enthusiast's library.

Binding: Hidden Spiral
Edition: 7th
Publication Date: TBD
Size: 6x9
Pages: TBD
Products You May Like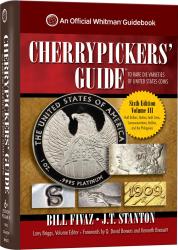 $39.95
Sale Price:
$29.99
Product is out of stock
$29.95
Sale Price:
$22.49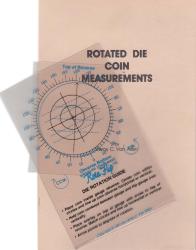 $29.95
Sale Price:
$28.99